Lecture and exhibitions on sustainable architecture at UEA
16/10/2018 - The Enterprise Centre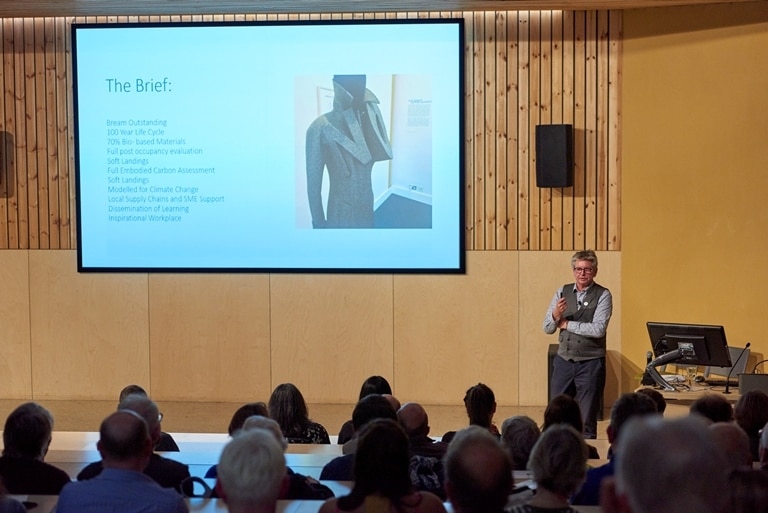 On Tuesday 16th October Professor John French, Director of the Adapt Group at the University of East Anglia (UEA), gave a thought-provoking lecture on sustainable architecture and the role of the artist. The lecture forms part of the UEA's Inaugural Lecture series – a series of seven lectures this autumn from UEA's newest professors on a range of innovative research.
Three established artists have exhibitions at The Enterprise Centre to coincide with this event.
In his lecture 'Art, Architecture and Sustainable Development', Professor French will draw on his own experiences, including the construction of The Enterprise Centre, to illustrate the key role society plays in creating a zero carbon future. As the role of the artist in shaping new designs in sustainable buildings is a key theme in the lecture, the idea was born to include some art installations in The Enterprise Centre for the week of the lecture.
Ishbel Mackenzie, a graduate of the Glasgow School of Art, has several works on display in the exhibition area, including 'Window (Subtle Sky)', which is a permanent installation. Ishbel is interested in how our reliance on the screen has changed our overall visual perception.
'The End' exhibition by artist Nicolas Ruston will be on display in the stunning Exhibition Area. This collaborative project explores the nature of 'endings'. The collection of sixteen paintings examine and interrogate the notion of 'the end' by exploring how an art form can operate through different media.
On the first floor of The Enterprise Centre is a collection of works by Byzantia Harlow. These works are a selection of pieces originally shown at Yamamoto Keiko Rochaix gallery in 2018 in a show entitled 'From the same source I have not taken'.
Prof John French commented: 'I'm delighted to have had the opportunity to give my inaugural lecture. Seeing The Enterprise Centre from early concept idea, through to a successful community supporting and developing businesses, has been somewhat of a career highlight. The lecture will include the inspiration for the building, innovative construction and the importance of sustainable development. I'm thrilled to welcome exhibitions in the building from three acclaimed artists which help to illustrate the importance of art in architecture and highlight the inspirational nature of the building.'
See here for more about the award winning The Enterprise Centre
All articles on this news site are submitted by registered contributors of NorfolkWire. Find out how to subscribe and submit your stories here »