Norwich School awarded Top Marks For Enterprise by Norfolk Chamber
20/11/2018 - Norfolk Chamber of Commerce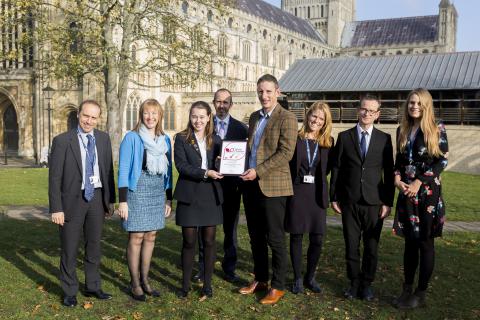 Norwich School has been awarded Norfolk Chamber's highest level of their Young Chamber Enterprise Recognition Award. 
The Chamber's Young Chamber Enterprise Recognition Award is an award recognising and celebrating educational establishments in Norfolk that are committed to improving the employability skills of young people in the region.
Bearers of this award will have evidenced a clear understanding of the local business needs and will be working to equip students with the necessary skills as well as creating opportunities for students to engage with local organisations.
An education establishment with the 'Commended' Gold Tick will have shown the most commitment to student employability outcomes and has gone above and beyond in delivering a culture of enterprise.
Norwich School were able to show their commitment to enterprise engagement across the life of their students.  The Young Chamber judges were particularly impressed with the sustainable and focused programmes that were in place to encourage students to consider their future opportunities in the world of business, which is why they awarded the 'Commended' level.
Norwich School is delighted to be 'Commended' in the Enterprise Recognition Award.
Tom White, Head of Economics and Business Enterprise said:
"We're very pleased to receive this award as it is the outcome of a sustained team effort. Norwich School approaches enterprise education from a wide angle. My colleagues have carefully put together a curriculum that is rich with work experience, community service, careers fairs and enterprise activity days. We have the active support of governors, parents and local business enhancing what we can offer in school. I am grateful to all the mentors, advisors and business people who have contributed to this success.
"The Enterprise Recognition Award also highlights the high level of engagement we see from our pupils. In the classroom and their clubs, societies, competitions and Young Enterprise companies, our pupils show a commitment to enterprise. They are frequently resilient, creative, dynamic and entrepreneurial. Congratulations on their achievements."
Nova Fairbank, Head of Policy, Governance and Public Affairs and a member of the Young Chamber Board said:
"One of Norfolk Chamber's key priorities is helping to bridge the gap between business and education.  Our Young Chamber programme is designed to help create stronger business engagement with schools and support the raising of young people's aspirations and soft skills.
"We are delighted to be able to award 'Commended' status to Norwich School.  They have an active agenda of engagement with the local business community and are very proactive in ensuring their students have access to business engagement opportunities, such as supporting Norfolk Chamber in the delivery of our B2B event, as well as running their own Young Chamber group, where the students deliver their own business breakfasts."
Presenting the award, Glyndwr Thomas, Finance Business Partner at Aviva and Board member of Norfolk Chamber's Young Chamber Board said:
"Recognising Norwich School with this award is fully deserved.  Their commitment to embedding an enterprise approach is admirable and the evidence of the positive outcomes this creates is particularly encouraging.  Giving our young people the skills and the opportunities to work with businesses and to prepare them for the world of work is critical to the success of Norfolk enterprise."
Norwich School is particularly keen to help support other schools to achieve an Enterprise Recognition Award, commenting on this, Nicola Hill, Assistant Head said:
"We would be delighted to talk with any school who would be looking to put themselves forward for this award in the future – we worked together with many colleagues in our own school to put ours together and would enjoy helping other schools to do the same."
The Chamber's Enterprise Recognition Award is open to any school in Norfolk and is free to enter.  The award aims to provide a platform to not only to recognise the work already happening within education, but to create a springboard for new relationships between businesses and education.
Picture Credit: Hannah Hutchins, Norwich School
All articles on this news site are submitted by registered contributors of NorfolkWire. Find out how to subscribe and submit your stories here »