Larking Gowen Proud Sponsor of Famous Norwich Road Race
9/07/2018 - Larking Gowen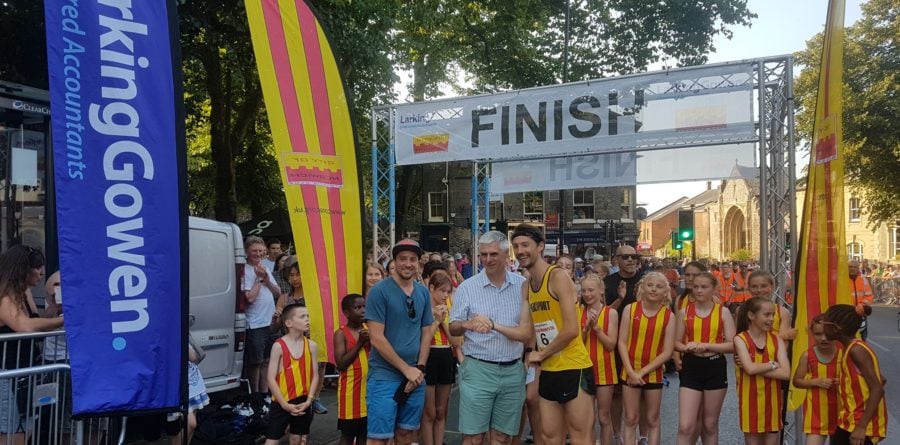 The 23rd Lord Mayor's 5K City Centre Classic Road Race took place in Norwich this weekend, with a record-breaking number of participants. Sponsored for the first time by chartered accountants, Larking Gowen, the race was set up in 1996, and has a reputation as one of the toughest on the UK race circuit, attracting top athletes from the county, and around the UK.
"Larking Gowen has an eleven year association as sponsor of the City of Norwich Half Marathon," says Larking Gowen Managing Partner, Jon Woolston, who presented race winners with prize money at a ceremony in Tombland on Saturday evening, "so we're delighted to support the Lord Mayor's 5K road race this year. This high-profile event is challenging, and exciting to watch." Jon adds, "It's great to be a part of that, especially as the half-way cut off in front of the Larking Gowen offices, will add some early drama."
"The Lord Mayor's 5K Classic is an elite race," says City of Norwich Athletic Club road race coordinator, Richard Polley, who set up the 5K race along with race director, Granville Courtnell. "The city centre roads are closed for the Lord Mayor's Procession, which is what makes this race possible," Richard explains, "but we only have a 20-minute window before the procession starts. If a runner doesn't make the 10-minute halfway point in time, they are automatically disqualified. That adds to the excitement for the 50,000 spectators."
Race director, Granville Courtnell, says, "We are delighted that Larking Gowen is headline sponsor of the Lord Mayor's 5K. We have a long and beneficial relationship with the firm through their support of the city's half marathon, which includes providing volunteer marshals, so to have them involved with the 5K is special to us."
For more info on Larking Gowen and their range of services, visit the Larking Gowen website.
All articles on this news site are submitted by registered contributors of NorfolkWire. Find out how to subscribe and submit your stories here »