Cook lamb this Spring with the award-winning chefs at Tuddenham Mill
19/02/2019 - Tuddenham Mill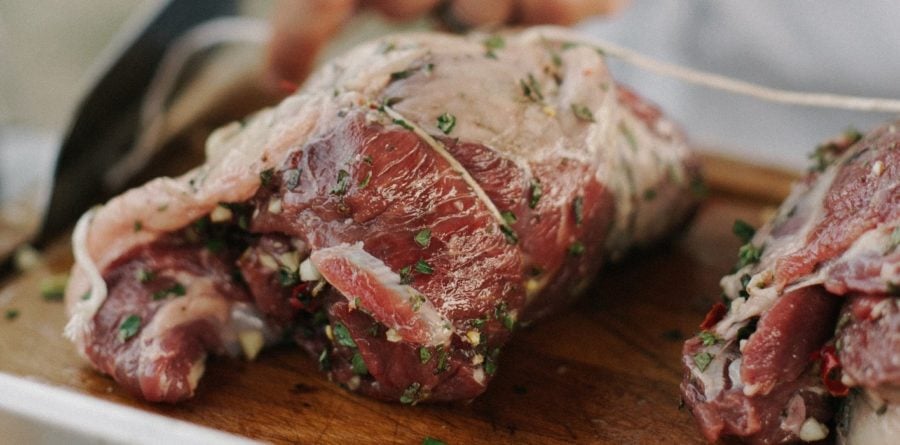 Join the team of award-winning chefs at Tuddenham Mill on Wednesday, 13th March for a fun and delicious masterclass, all about spring lamb.  If you want to know your rump from your rack,  learn a perfect quick recipe for chops, or how to braise a shank or a shoulder like a chef, this could be the course for you!
Greg Strolenberg, from Tuddenham's supplier, Lavenham Butchers, will also be available with a whole lamb to show how he breaks it down, then it's aprons on to cook some of the cuts with plenty of expert guidance.  This really is an exciting opportunity to be really hands‐on in the Tuddenham Mill kitchen – and you get to take your apron home!
"Lamb is such a versatile meat," says Chef Patron Lee Bye. "It works simply roasted with garlic and rosemary, and takes spicing and middle eastern flavours really well. Like anything, it's important to buy the best you can which is why we go to Greg for this organic Shimpling Park meat. The lamb has eaten grass and clover, which makes the meat incredibly sweet and not too fatty, and I guarantee that even people who don't think they like lamb will be converted!
"For me, knowing that an animal has lived well is essential, it's at the heart of the field‐to-fork ethos that directs everything we do here at Tuddenham."
A leisurely lunch will celebrate all things lamb, before guests head home mid‐afternoon, inspired and with some recipes to impress up your sleeve!
Why not stay over and take advantage of some special room rates Tuddenham are offering participants. Room packages start from £425 (This includes course, lunch and breakfast the following morning. The course itself is £120 per person, which includes the course, a mill apron and a delicious lamb inspired lunch menu.
Book now at www.tuddenhammill.co.uk or call 01638 713552.
All articles on this news site are submitted by registered contributors of NorfolkWire. Find out how to subscribe and submit your stories here »