19 community organisations share in bumper £30,000 windfall
3/01/2019 - Lovewell Blake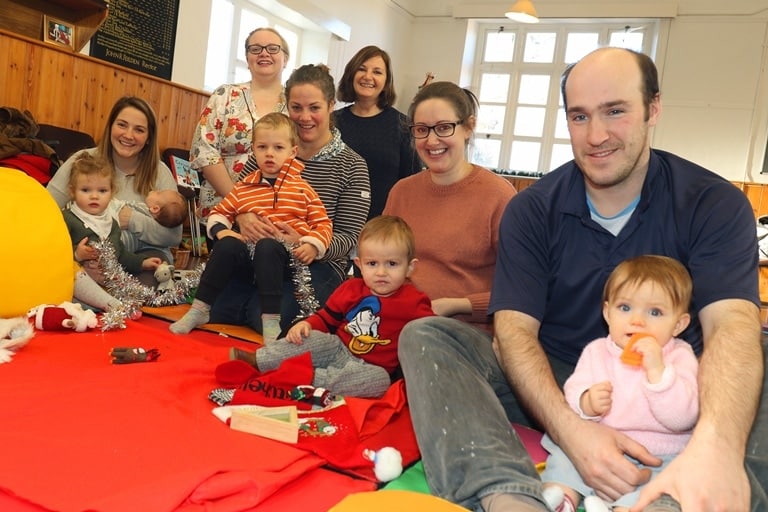 Nineteen community groups across Norfolk and north Suffolk are to share a combined windfall of more than £30,000, following the latest round of grants from Lovewell Blake's LB150 Fund – taking the amount given out in grants since the Fund was founded ten years ago over the £250,000 mark.
The money was raised over the past 12 months by staff and partners at the leading firm of chartered accountants, business advisers and financial planners.
A wide range of charities, voluntary groups and community organisations have received grants ranging from £400 to £2,000 to help deliver a variety of community activities. The recipients of the grants were chosen by a panel of Lovewell Blake staff, assisted by the Norfolk and Suffolk Community Foundations, which administer the LB150 Fund.
The organisations receiving grants were:
Community Action Norwich, which received £2,000 to part fund the post of a cook to manage the community café kitchen and train volunteers
Norwich Diocesan Play Van received £2,000 to help run groups in north Norfolk rural villages where a meeting place is needed for parents and carers with young children and babies
Norwich Door to Door, which received £2,000 to purchase equipment and signage for two new buses
REMAP in southeast Norfolk, which received £2,000 to purchase materials and supply equipment to create bespoke equipment for disabled people of all ages, and groups
South West Norfolk Youth Opportunities Project, which received a grant of £2,000 to provide one to one mentoring for young people with low level and emerging mental health concerns
Time Norfolk in Norwich, which received £2,000 to decorate and furnish two counselling rooms at the premises where the charity is based
West Norfolk Riding for the Disabled, which was given a grant of £1,998 to cover ten weeks of riding lessons for up to 32 people with a wide spectrum of disabilities
Norfolk Area LGBT Project, which received £1,957 to set up a Breckland BLAH LGBT+ youth group in Thetford
Hope in Great Yarmouth, which was given £1,750 to transform one of the rooms in the Kings Centre in the town into a laundry room
Sunbeams Play in Great Yarmouth, which received £1,750 to purchase a number of new craft items for use across all the different activity sessions
Mundesley PCC, which was given a grant of £1,715 towards new equipment to cater for community events
Norfolk Family Mediation Service, which received £1,560 to fund a trained professional to provide free advice to individuals in Great Yarmouth facing separation or divorce, or in dispute with an ex-partner over contact with a child
Hickling Playing Field and Recreation Ground Charity, which was given a grant of £1,559 towards replacing gym equipment
Lowestoft Shopmobility, which received £1,500 to help with running costs
North Breckland Youth for Christ, which was given £1,150 to cover a range of operational costs, including management and advertising, training, travel and hall hire for its Youthcafe Project
Willow Tree Garden in Great Yarmouth, which received a grant of £1,100 to purchase equipment for Willow Tree Tuns, a catering centre for people with additional needs
Eastern Rivers Community Gym in Loddon, which was given a grant of £1,000 towards the salary of a personal trainer, and publicity
STEP in Beccles, which received £600 towards the cost of running the vintage tea/winter brunch initiative
B&B Theatre Company in Waveney, which was given £400 towards staging The Sound of Music at the Players Theatre in Lowestoft in 2019
"We are delighted to be able to support such a variety of fabulous organisations which are doing such great work in our communities," said Gary Flatt, Lovewell Blake's CSR partner. "These groups are what bind our communities together, and they are the inspiration for our staff and partners to undertake fundraising activities throughout the year.
"This year we have given out a bumper £30,000, thanks to the efforts of our staff, and to everyone who supported our fundraising efforts during the year. We are very proud that we have now given out over a quarter of a million pounds to local community groups in the ten years that the LB150 Fund has been in existence – that is a significant achievement."
Case Study: Norwich Diocesan Play Van
With five rural communities already benefitting from the Diocesan Play Van, the grant from the LB150 will enable more to be established, with a new group in Cley-next-the-Sea due to be the first to be set up with the extra resources.
The Play Van visits village halls and primary schools to run two hour play session for babies and young children aged between 0 and 4, bringing good quality and safe play equipment, tea and coffee for parents, and a safe and stimulating environment for the children to play in.
The Play Van team, led by development worker Lesley Gurney, works with local volunteers to establish the groups, provides a complete set of play equipment for each group, and continuing support for those volunteers.
As well as bringing young children together in isolated communities, the service is a vital lifeline for parents as well, says Lesley.
"New parents in small rural communities can be very isolated, especially people who up until their child is born have been at work and may not have a strong social network in that community," she said.
"That socialisation is very important for the children as well, because there is some evidence that children coming into reception classes at primary school who have not had the company of other children start their school career at a disadvantage."
Find out more about the LB150 fund here.
Pictured – Members of the Norwich Diocesan Play Van Baconsthorpe group celebrate the grant from the LB150 Fund. Front row, from left: Rebecca Mack with Amelie and baby Elliott; Ruth Swinbourne with Jonjo; Laura Khalil with Calvin; Arthur Betts with Miriam. Back row, from left: Rebecca Reynolds from Lovewell Blake and Play Van development worker Lesley Gurney.
Photo credit – Andy Newman.