Business Challenge winners "on the up" with East Anglian Air Ambulance
2/05/2019 - Larking Gowen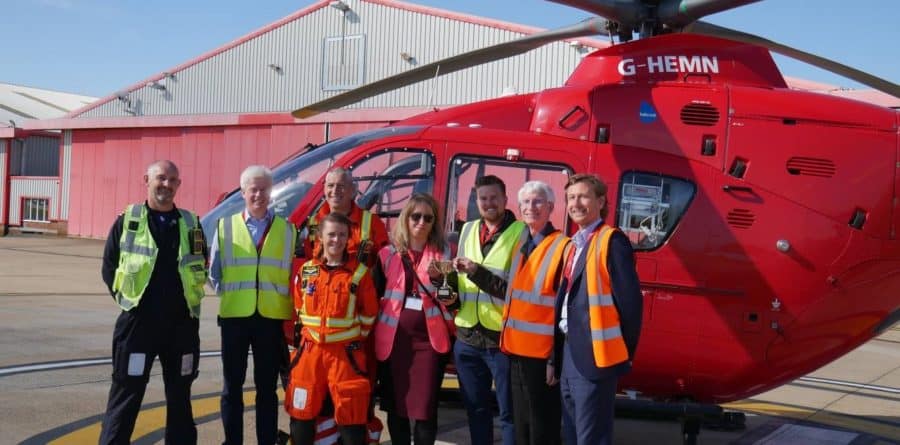 The 2019 winners of the MHA Larking Gowen City of Norwich Half Marathon Business Challenge have been presented with their first place cup on location with the East Anglian Air Ambulance. 
East Anglian Air Ambulance is the charity partner for this year's race.  The presentation took place at the charity's Norwich base at Norwich International Airport, giving the winners and runners-up the opportunity to take a look inside one of its air ambulances.
This year's winners, MHA Larking Gowen, crossed the finish line in a combined team time of 4 hours 31 minutes, just over 8 minutes ahead of last year's winners, Barratt & Cooke. Worley Parsons' team crossed the line in third place.
Jo Fox, Director at MHA Larking Gowen, comments:
"What a fantastic location to be able to present the awards to this year's Business Challenge runners.  We enjoyed a great insight into the day-to-day running of the service and would like to thank East Anglian Air Ambulance for hosting the presentation, they were such a great cause to run for! I would also like to congratulate all the runners who took part this year, and thank the runners, organisers and volunteers for once again making this event so successful."
On Sunday 7 April, just under 2,000 runners took part in the MHA Larking Gowen City of Norwich Half Marathon.  Thirteen teams entered the Business Challenge, an inter-company 'best time' competition held within the main race. If you would like to know more about East Anglian Air Ambulance or make a donation please visit www.eaaa.org.uk
Top 3 places of 13 teams
| | | |
| --- | --- | --- |
|   | Company | Collective Time |
| 1 | MHA Larking Gowen | 04:31:01 |
| 2 | Barratt & Cooke A team | 04:39:26 |
| 3 | WorleyParsons | 04:50:52 |
For more information on Larking Gowen visit their website here
Keep up to date with all the latest Norfolk news and events here
Pictured: Left to right) Captain Steve Norris, Director of Operations Matthew Jones, Critical Care Paramedic Rod Wells, Doctor Natalie Lonsdale of the East Anglian Air Ambulance and Jo Fox, Director at MHA Larking Gowen (centre) with the winning team members Adam Pearce, Tim Angell and Chris Yeates. Credit: MHA Larking Gowen
All articles on this news site are submitted by registered contributors of NorfolkWire. Find out how to subscribe and submit your stories here »