Bruisyard Hall's guide to unique marriage proposals!
31/01/2019 - Bruisyard hall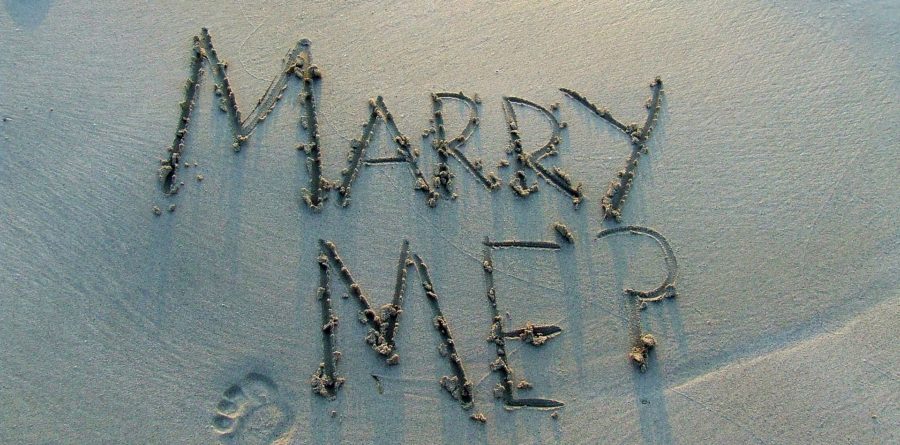 One of the many exciting things about becoming engaged is being able to share your marriage proposal story and Bruisyard Hall's expert wedding team love to hear about proposals that are unique and 'out of the ordinary'!
It's no secret that many people will have love on the brain, especially as Valentines Day is so close. The wedding team at Bruisyard has utilised their expertise and experience to create a list of imaginative and unique proposals, that would melt even the most cynical of hearts.
Crack open a special cookie. The element of surprise is always your friend. And if you love a Chinese takeaway, then why not make those fortune cookies extra special? You can actually buy a 'Will you marry me' fortune cookie online, or even make one yourself with a little skill and practice. Either way, it's going to create a story that lasts a lifetime.
Take to the airwaves. Whilst it might be unrealistic to hire a sky-writer to draft your proposal in the sky, your local radio station may be able to help. Does your partner listen to the radio at regular times? Seeing if their favourite station would let you propose live on air would be a sure way to make his or her commute memorable.
A treasure hunt. What better way to reveal the ultimate prize than a romantic treasure hunt? Start with a few little romantic gifts, such as chocolates or flowers, until the final prize, the offer of your hand in marriage, is discovered.
The bespoke photo album. Your partner will be touched to see that you've created a photo album of all your special times. With your first photo together, your happiest holiday snaps, that first Christmas tree… it's the perfect romantic gift. But wait… the last page is blank, except for a simple message. Will you marry me? Oh, and once they've said yes, don't forget to take a selfie. It'll make a great first picture for the wedding album.
Recreate a special memory. Where was your first date? Where were you when the words "I love you" were first spoken? Pack your picnic, book that table, or revisit that special place, and then pop your question. It's sure to be a winner.
A romantic movie with a personal message. If you want to make a big impression, then there's no better place than on the silver screen. With many movie theatres putting on special romantic film viewings, your partner won't be unduly suspicious if you take her to a special showing of Casablanca at the local picture house. But with a little planning and some money down, you could purchase an ad space before the film starts, with one simple message. Will you marry me? Surely there's only one answer to that question.
Once you're successful (and who could say no to these?) It's time to start planning! If you want to consider Bruisyard Hall & Barn give them a call on 01728 639 000 or Email info@bruisyardhall.com for a private tour.
Photo credit:  Shell Sperling Photography, Mark Tillie Photographer, Jackson & Co Photography, D&A Photography and James Rouse Photography
All articles on this news site are submitted by registered contributors of NorfolkWire. Find out how to subscribe and submit your stories here »