Event: Norfolk Christmas Fayre at Norwich Cathedral 1st December
5/11/2018 - RNAA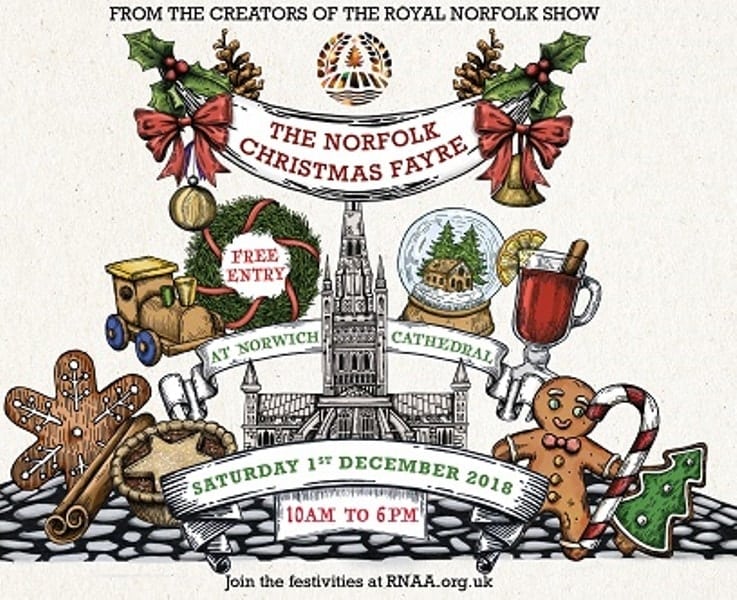 The RNAA invites you to enjoy a free celebration of Christmas in Norfolk as the Norfolk Christmas Fayre opens in the heart of Norwich on Saturday 1st December, 10am-6pm at Norwich Cathedral.
Founded by the Royal Norfolk Agricultural Association (RNAA), the organisation behind the Royal Norfolk Show, the Norfolk Christmas Fayre is a festival celebrating the very best of Norfolk this festive season.
Visitors are invited to do their Christmas shopping and sample produce from around the county in the festive atmosphere of the Cathedral Cloisters. The Cathedral Close will also be lit up with festive trimmings. Entertainment including carol singers and vintage fairground rides, along with the merry smells from the mulled wine stall will make sure that the Norfolk Christmas Fayre will be more than just a shopping event, but a place where you will be filled with the joys of the festive season. The Cathedral Nave will be showing a range of art as well as prints, cards and other creations from local makers, which will offer visitors a unique gifting opportunity.
The Norfolk Christmas Fayre will also be promoting The Salvation Army Christmas Appeal, Toys and Tins.  For more than 30 years, this appeal has been transforming Christmas for families in need across Norfolk. The RNAA and Norwich Cathedral encourage visitors to the Fayre to think of those who might be not able to enjoy Christmas and ask that donations of food and toys are brought to the event.
Tradestand bookings at this event are still open – please click here to find out more.