The team of experts engaging Norfolk's children during science week
23/10/2018 - Developing Experts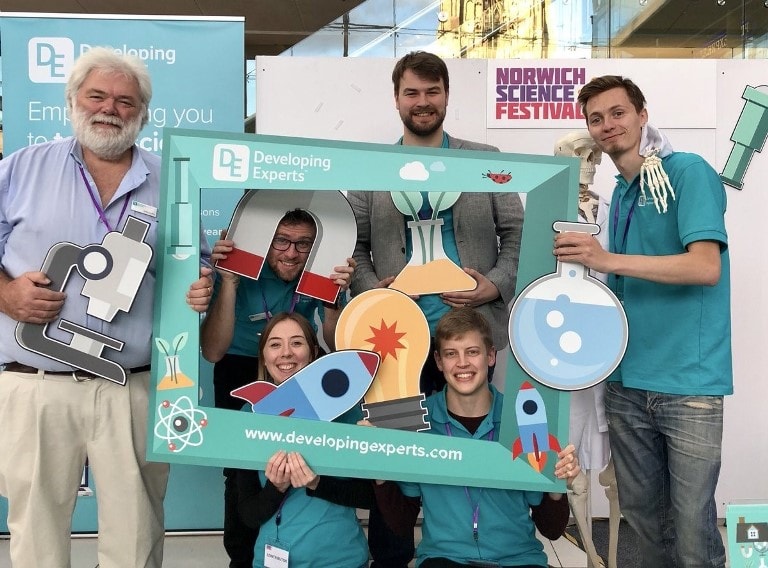 A team of global scientists from a high tech education business are on a mission this week to propel Norfolk's children into the very best science-based careers of the future.
Norwich-based Developing Experts are using the seven days of the Norwich Science Festival, to ask both parents and children to 'Put Themselves in the Frame' and consider how their interests, enthusiasm and talents could have a lasting impact on medicine, space or energy.
The company, which has over 100 acclaimed scientists from across the world contributing to its unique education platform, is based in The Forum throughout the week of activity, and is operating a Science Selfie Booth, to capture the image and the aspirations of Norwich's young people and their hopes for the future of science.
Both parents and children can spend time talking to three of the science specialists about opportunities in the world of science, recent exciting innovations, and how their current education can get them on the perfect path to being one of tomorrow's respected global scientists.
Sarah Mintey, a former headteacher who founded Developing Experts, said: "We're delighted to be involved with this incredibly vibrant and engaging festival in the heart of Norwich. There is so much going on in the region in terms of science and discovery, so to be able to share that with tomorrow's potential scientist community is a great opportunity.
"Having been a headteacher, and seen so many young people fall in love with science, I'm passionate about being able to reach children – and their parents – with the kind of tools and interactive subject matter which makes science so much easier to understand. We've worked really hard on our platform to develop content which is relatable, and which is sourced from the very best experts across the globe. Being able to share that in person with youngsters and adults in Norwich this week is a real delight for us."
Pictured is the Developing Experts team with their Selfie Frame.
For more information about Developing Experts, go to https://www.developingexperts.com/.
All articles on this news site are submitted by registered contributors of NorfolkWire. Find out how to subscribe and submit your stories here »