Charity shop window has customers 'fighting over stock'
21/01/2019 - EACH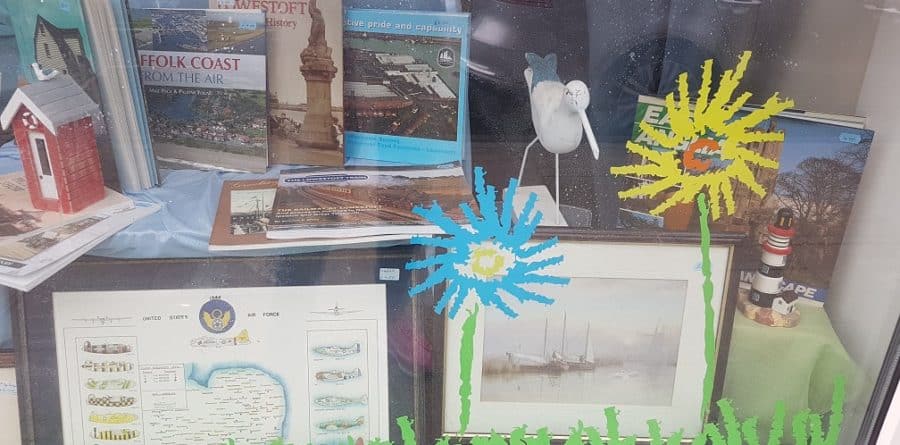 It's no secret that charity begins at home, so it won't be a surprise that there has been a clamour to grab items from a Lowestoft charity shop after it created a window display themed on the coastal town.
Books about and pictures of Lowestoft, plus a series of coastal-themed ornaments, including a lighthouse and a seagull, have generated great footfall for East Anglia's Children's Hospices (EACH) in London Road South.
Rowan Gaskin, Shop Manager, said: "We had a lot of stock when we initially did the window last Friday (11 January), but we couldn't keep the customers out. People were more or less fighting over stock! A lot has gone. There are still a few bits left for between £1 and £5. If you haven't managed to get your hands on anything this time, do keep your eyes peeled because we now plan to make this a frequent thing. I'd like to say a big thank you to two of my volunteers, Olwen and Tracy, who did the display. They keep the window on trend and change it up to keep it interesting every couple of weeks."
EACH in Lowestoft is open 9am to 5pm, Monday to Saturday. Donations and support from volunteers are always welcomed. All money raised from the sale of items goes towards the care and support of children and young people with life-threatening conditions across the region, and their families.
For more information go to www.each.org.uk, give the shop a call on 01502 563726 or drop by the shop for a chat.
Want to keep track of all the latest Norfolk events and news? Click here.