Norwich and King's Lynn set for third annual bubble bonanzas
17/01/2020 - EACH Children's Hospice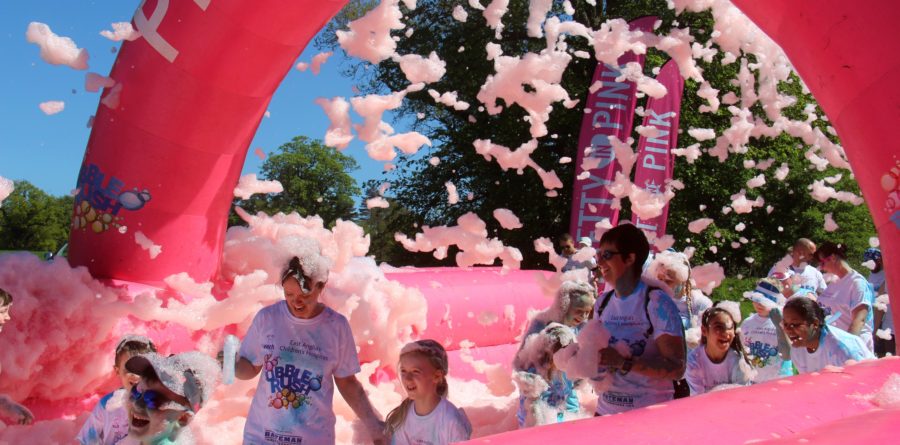 A foam-tastic time awaits those who sign up to Bubble Rush, the exciting fundraiser East Anglia's Children's Hospices (EACH) is bringing back to Norwich and King's Lynn for a third consecutive year.Bubble Rush is a fun run with a difference as participants head off amongst a sea of bubbles, before passing four stations where cannons pump out foam to create a four-foot (1.2-meter) deep bubble bath!
The event has been taking place at Earlham Park, Norwich, and The Walks, King's Lynn, since 2018, with thousands of people raising £160,000.
In 2020 the former venue will be awash with bubbles on Saturday, 16th May and the latter on Sunday,  21 st June. Runners will go off in two waves at 11 am and noon at both. Courses are 2.5k and participants will be able to do them twice if they wish.
Emma Benstead, EACH Norfolk Events Fundraiser, said: "These events are great fun for all involved, from those who take part and get messy to those who organise, volunteer and spectate, and get to witness a spectacular multi-coloured sight. There's no race element, meaning participants are free to run, jog, walk, dance or toddle through the foam. It's a completely natural and safe mixture."
Alongside the courses will be lots of merchandise, catering and other amusements, making it a proper family day out.
Emma added: "Tickets for the Bubble Rush events this year will be sold in stages, so the earlier you book the cheaper it is! While there's no fundraising target, registration fees help cover the costs of your participation and so we're asking everyone to try raise a minimum £15. Our top fundraisers will be receiving £50 vouchers! Come along and soak up the colourful atmosphere."
Tickets are currently priced at £16 for adults, £9 for children aged four to 15, £3 for children aged under four, £45 for families of two adults and two children, and £14 per person for teams of six or more. All entrants will receive a T-shirt and medal. Head to www.each.org.uk/bubblerush for more information.
Norwich's Bubble Rush is sponsored by Bateman Groundworks. More sponsorship opportunities exist for both. To find out more call Caroline Allen on 01953 666767 or email her at caroline.allen@each.org.uk.
"We'd heard about EACH and knew they were a fantastic cause that had supported families we knew, but we never thought we'd be the ones that needed them! Sadly, as fantastic as it is, their service will always be required, and every child who needs their help deserves to have it."
We care for children and young people with life-threatening conditions across Cambridgeshire, Essex, Norfolk and Suffolk, and support their families.
We offer families flexibility and control over where they receive their care and support, including where their child dies – at home, in hospital or at one of three hospices at Milton (Cambridge), The Nook (Norfolk) and The Treehouse (Ipswich).
Our family-centred approach includes specialist nursing care, symptom management support, short breaks, wellbeing activities, therapies and counselling, all meeting the individual needs of the child, young person and whole family.
We are recognised as leaders in our field, with a reputation for excellence and commitment to pioneering development and innovation.
We rely on voluntary donations for the majority of our income and each year need to raise £6.4 million from fundraising and in excess of £1 million in profits from its retail operation.
       EACH Royal Patron – Her Royal Highness The Duchess of Cambridge.
    For more information about EACH, including forthcoming events and how you can              help raise funds, visit www.each.org.uk or call the Norfolk fundraising office on 01508 500894.
All articles on this news site are submitted by registered contributors of NorfolkWire. Find out how to subscribe and submit your stories here »