New film shows why purpose-built children's hospice will be so valuable
31/07/2019 - EACH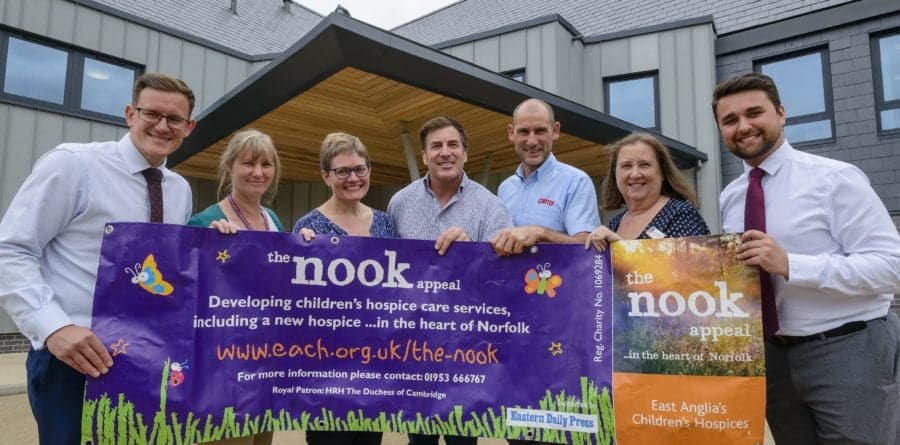 East Anglia's Children's Hospices (EACH) has released a film highlighting just how important the nook will be for Norfolk's most vulnerable children and their families.
Members of the EACH team have recently met with staff from R G Carter, the construction firm that has led on the building of the purpose-built hospice, with work on the exterior complete and the inside progressing well.
The nook appeal, though, to raise £10 million for the project, currently stands at £9.2 million, meaning EACH still needs the backing of its generous supporters to complete the fitting out process.
Delivery of care will be phased across from the charity's existing Norfolk hospice, in Quidenham, to the nook, in Framingham Earl, and all being well a full care service will be delivered from the new hospice from the end of September.
The film just released is narrated by Jane Campbell, EACH Service Manager. She begins the film: "As a staff team, we are all too aware that we are a club no-one wants to belong to. No family aspires to be referred to or eligible for care from a children's hospice. They are frequently frightened and often surprised when they come for an initial visit. One father expected to see rows of beds, with sick, dying children in them. Instead, he found a bright and vibrant place, with children playing and enjoying themselves, and parents and staff relaxed in each other's company."
Jane goes on to highlight how EACH has simply run out of space at its Quidenham hospice. Among a host of examples she gives are that staff cannot currently offer care to any child who requires specialist intravenous feeding as a separate fridge is necessary and there is no room for it. Those children and their families currently receive care and support at home, but will be able to go to the nook.
Jane also reveals that EACH Help at Home will come to Norfolk. The volunteer service matches friendly individuals with families to provide practical home support. The service has been running successfully in Cambridgeshire and Suffolk for some time now, and will be very welcome in Norfolk.
As well as more and bigger areas for clinical care, medical and nursing equipment, the nook will offer a hydrotherapy pool, a state-of-the-art sensory room, dedicated therapy rooms, en-suite family accommodation and so much more.
EACH currently cares for 139 children and young people in Norfolk, and supports 166 of their family members. Many more families will eventually benefit from its service as a result of the improved accessibility.
Jane finishes the five-minute film by informing that what she has said "only scratches the surface". It is available to view here.
For more information about the nook and how you can help raise money visit the following website.
All articles on this news site are submitted by registered contributors of NorfolkWire. Find out how to subscribe and submit your stories here »