Norwich department store Jarrold continues support of Children's Hospice Appeal
17/04/2019 - EACH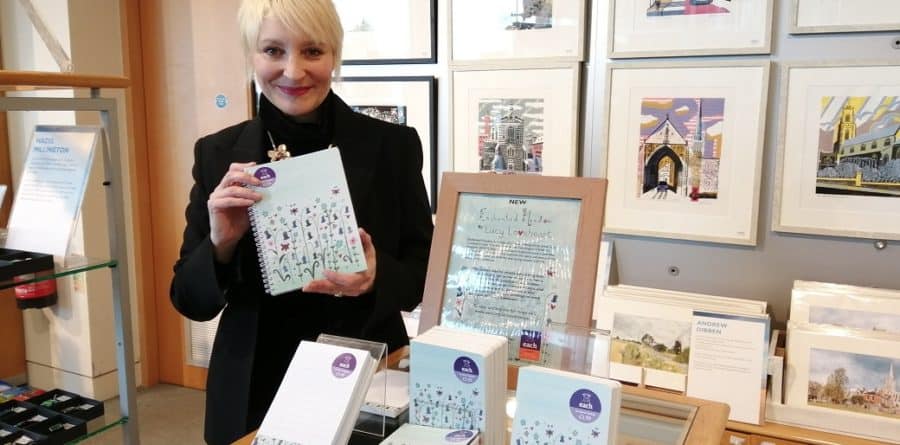 East Anglia's Children's Hospices (EACH) thanks Norwich department store Jarrold for its continued support for the Nook appeal. 
Jarrold, a longtime backer of EACH, has raised an impressive £10,000 as a member of the nook business network that exists to support the charity's appeal to raise £10 million for the building of a new hospice in Framingham Earl.
As well as this generous contribution, the business is continuing its support by stocking merchandise designed for EACH by internationally-renowned Norfolk artist Lucy Loveheart in its shop at The Forum. The Enchanted Meadow range includes bags, notelets and writing pads, all featuring rainbows, bluebells and butterflies.
Lucy said: "This collection has been a real privilege to work on. All the imagery within Enchanted Meadow has symbolic meaning. For example, the bluebells represent the nook appeal, the butterflies and forget-me-nots the ethos of EACH and the rainbows hope.
"I'm particularly delighted Jarrold's selling the products. It's a regional treasure and we're so lucky to have such an amazing retailer here in the heart of Norwich. I love Jarrold. It has a very special place in my heart."
Jarrold's Carole Slaughter said: "Jarrold colleagues, through our 250 Charity Initiative, have been working hard over the last year to fundraise. We're delighted to have reached our target of £10,000 that we can now present to the nook appeal and we hope will help towards the finishing of the amazing new nook hospice building in Framingham Earl.
"We're also pleased to be able to sell, through our Jarrold Forum Shop in Norwich, a new selection of products designed by Lucy Loveheart, with proceeds also going to the nook appeal."
Mike Hatton, EACH Norfolk Corporate Fundraising Assistant, said: "Jarrold have been absolutely incredible in their support for EACH. They've raised an amazing £10,000 as part of the nook business network and continue to support us by featuring our Enchanted Meadow range of products, exclusively designed by Lucy Loveheart, at their shop in The Forum. They've been wonderful in supporting us on our journey to transform care for life-threatened children in Norfolk."
For more on the Enchanted Meadow range go to www.each.org.uk/lucyloveheart and for more on Jarrold visit www.jarrold.co.uk. Furthermore, for more on the nook appeal and specifically the nook business network contact Mike on 01508 500892 or at michael.hatton@each.org.uk.
Keep up to date with all the latest Norfolk news and events here 
Photo Credit: East Anglian Children's Hospice (EACH)
All articles on this news site are submitted by registered contributors of NorfolkWire. Find out how to subscribe and submit your stories here »