Charity project engaging schoolchildren across Norfolk gains momentum
11/03/2019 - EACH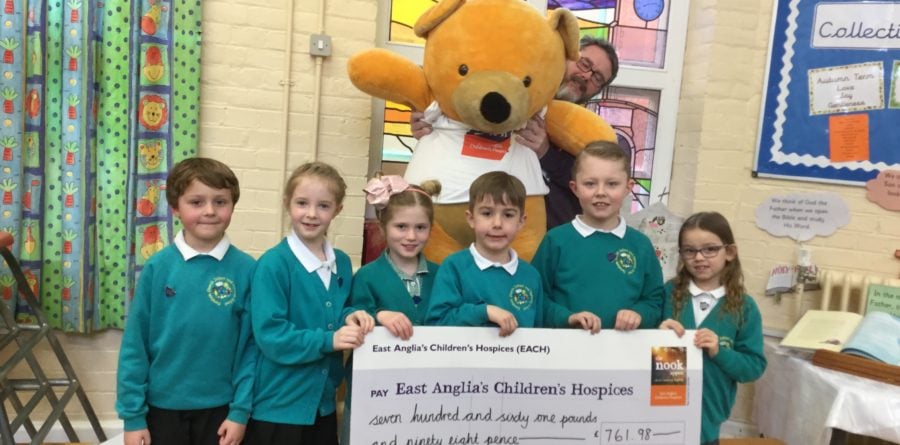 The Nook schools project, run by East Anglia's Children's Hospices (EACH), encourages schools to raise £400 each towards the cost of a soft play room at the Nook, the new hospice being built in Framingham Earl, that EACH hopes to open this summer.
A team of Year 6 children at Poringland Primary School, organised for members of the school's junior choir to sing carols and Christmas songs outside a nearby Budgens, collecting £145 in an hour. They also organised a classic penny mile totalling 640 miles. Due to the success of the previous fundraising activities, more events are being planned as the school has decided to up its fundraising goal to £1,000.
Additionally, Great Yarmouth Charter Academy has given £2,100 towards the schools project, following its Santa run along the beach. Students were joined by dogs in Christmas outfits and Father Christmas himself. Other members of the community also came out to offer their support.
Meanwhile, Dereham Church Infant and Nursery School collected £761 over the Christmas period, also holding a Santa run.
Stacey Addison, EACH Community Fundraiser for the Nook, said: "EACH fundraisers tell schoolchildren about the tough subject the charity deals with, with the help of a big teddy bear called Charley. Each letter of the name helps us describe what we do and why we need support.
"There are various benefits to raising £400, including a certificate to display at your school, an engraved brick to be located in the nook garden and, now, a spot on our dedicated website page. So far, over £13,000 has been raised by this project."
For more information about the nook schools project and to get involved, call 01508 500894 or email norfolk@each.org.uk.
Keep up to date with all the latest Norfolk news and events here. 
Photo Credit: EACH