GB ski star lends support to new EACH fundraising campaign
1/04/2019 - EACH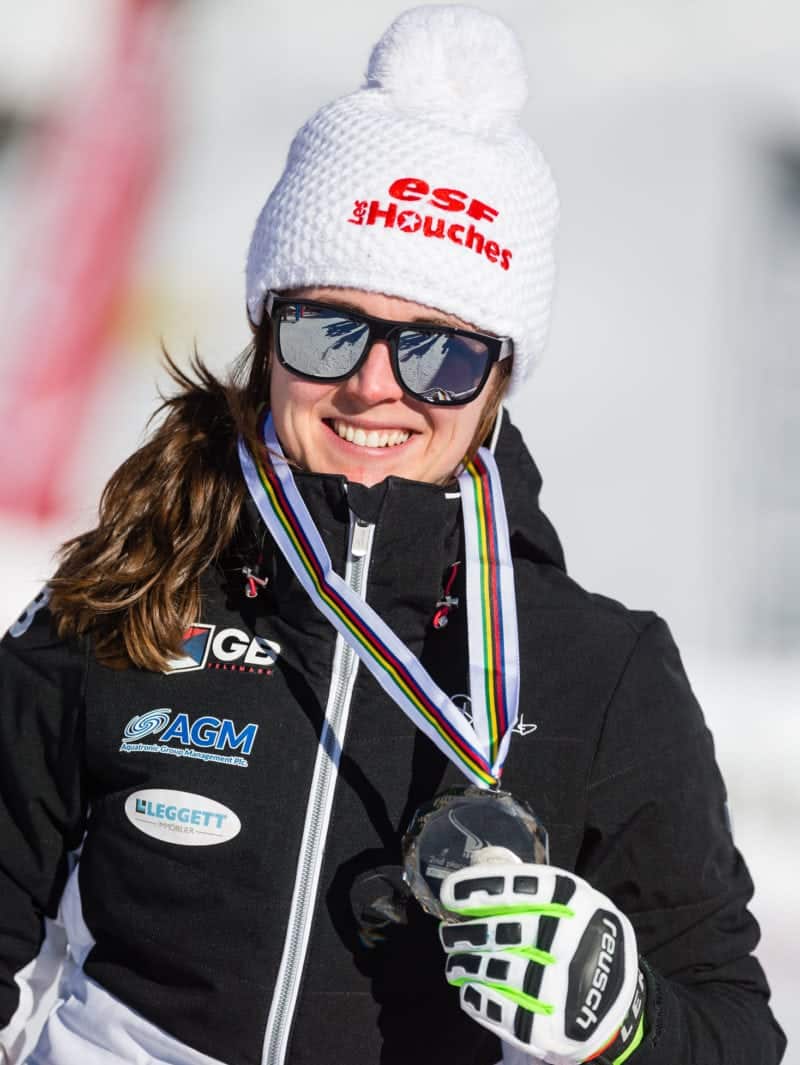 East Anglias' Jasmin Taylor, one of the country's standout performers in winter sports, is encouraging people to support East Anglia's Children's Hospices (EACH) by backing the charity's latest fundraising campaign, EACH Mile Counts.
The idea is that people take on a sporting challenge, doing it their way and in their time. It might involve swimming the length of the River Orwell at a community pool or running the distance of the London Marathon throughout the course of April.
EACH wants people to track how many miles they cover on its website, where a 'wall of fame' will show who is taking part and what they are doing. There will also be a totaliser keeping track of the collective amount of miles covered. EACH hopes to see it hit at least 5,000 as the charity offers its free care and support to children and young people with life-threatening conditions, and their families, across an area of approximately 5,000 square miles.
Jasmin is a telemark skier from Ipswich. Her little-known sport is, perhaps, one of the most gruelling on snow. It involves a combination of alpine, cross-country and ski jumping elements, and is pushing for inclusion in the Winter Olympics. Jasmin was the first Briton to win a world championship medal in telemark skiing and is set to break the national ski and snowboard record of 29 World Cup podiums, held by Jilly Curry. She travels over 5,000 miles a season to compete.
She said: "We all face a variety of challenges and to do your best when faced with a challenge is something that adds value to your life and character. EACH are doing their best to support families of children and young people with life-threatening conditions, and to do so, they too need support. To have a challenge with a purpose is very healthy and fulfilling; the process can only affect your life in a positive way."
Becky Redbond, EACH Fundraising Manager, said: "This is a great, big virtual event anyone and everyone can get involved in as it's all about your challenge, your way. Take on a challenge that's difficult for you, irrespective of how difficult it may be to others, and help us continue our vital work.
"It's really simple to get involved and our wall of fame, as well as featuring your name and a photo, will allow you to write about your challenge. There's also the facility to make a donation and/or pay in sponsorship money.
"This campaign also serves to highlight that more than half the care and support we deliver is out in the community, in family homes and hospitals, with our staff constantly on the move across the 5,000-plus square miles of East Anglia.
"All money raised will go towards this crucial service we provide for children and young people with life-threatening conditions, and their families."
For more information about EACH Mile Counts, to get inspired and get involved, go to www.each.org.uk/EACH-Mile-Counts now.
Keep up to date with all the latest Norfolk news and events here.
All articles on this news site are submitted by registered contributors of NorfolkWire. Find out how to subscribe and submit your stories here »