Former long-serving nurse Babs is proud to have spent nearly three decades volunteering for EACH
3/05/2022 - EACH Children's Hospice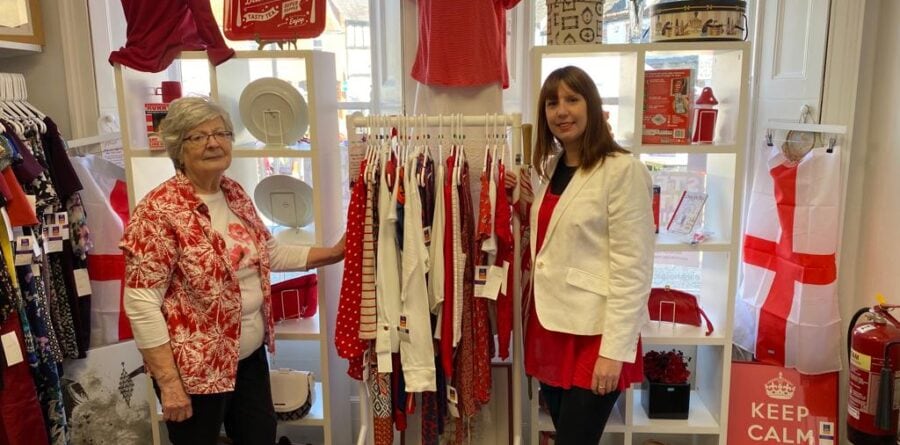 Babs Wilding has spent a lifetime helping others.
As well as 46 years in nursing, the 74-year-old has clocked up the best part of three decades as a much-valued shop volunteer for East Anglia's Children's Hospices (EACH).
She is part of the furniture at EACH's Wymondham shop, in Market Place, and usually gives up her time every Monday and Friday.
She is passionate about both the organisation and volunteering – and would heartily recommend the latter to others.
"I like keeping busy and this keeps me off the street corners," joked Babs, who has two children and three grandchildren and lives in Wymondham.
"I enjoy seeing the shop neat and tidy and I've made so many friends during my years here, including staff, volunteers and customers.
"You get to know the regulars and everyone is so cheerful.
"Spending time here is very rewarding.
"EACH provides such a brilliant and much-needed service and it's an organisation I feel very passionately about.
"From a volunteering point of view, it needs and deserves all the help it can get and that's why I'm always happy to spread the word.
"There are so many things people can do to help and whatever time they can spare makes a difference, even if it's just a couple of hours a week or fortnight.
"There's such flexibility and if people need to work around other things, like doing the school run, that's absolutely fine.
"Some people enjoy being on the till but, if not, there are many other jobs, like dealing with bric-a-brac, books, toys and clothing. You can sort, tag and price."
Babs worked in orthopaedics and surgery during her proud nursing career.
In addition to being based at the Norfolk and Norwich University Hospital, she also spent time in places like Plymouth, Portsmouth and north of the border in Scotland.
She retired nearly 11 years ago, when 63.
However, it was when she started working on a part-time basis 27 years ago that she began volunteering for EACH
That longevity has not gone unnoticed and she has been fortunate enough to meet the charity's Royal Patron, The Duchess of Cambridge.
"The Nook, in Framingham Earl, is an amazing place and I was there the day it was officially opened by The Duchess of Cambridge," said Babs.
"I was also fortunate enough to meet her when she opened our shop in Holt (in March 2016).
"Three of us were chosen to attend and she was absolutely charming."
Wymondham shop manager Lisa Brown says Babs is "worth her weight in gold".
She said: "We can always do with extra volunteers and of all ages. There really is something for everyone.
"Volunteers are invaluable and that's why we're so lucky to have someone like Babs.
"She's such a help, works incredibly hard and has great spirit around the shop."
"We'd struggle and be lost without her."
To find out more about volunteering in Wymondham or organise a taster session, pop into the shop, email Lisa.Brown@each.org.uk or call 01953 607467.
All articles on this news site are submitted by registered contributors of NorfolkWire. Find out how to subscribe and submit your stories here »