Each's Tropicalia Ball at the Norfolk Showground raised a total of £51,500
28/06/2019 - EACH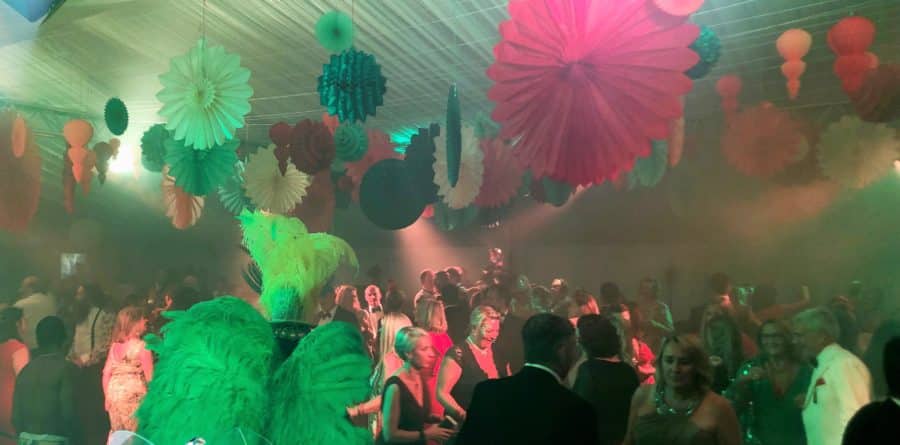 Seven hundred people enjoyed a riot of colour, sizzling entertainment and fantastic food at the Norfolk Show Ball which took place last week on Friday the 21st of June. The fun fuelled night raised a superb £51,500 for East Anglia's Children's Hospice.
The event at Norfolk Showground saw guests entertained by Tropicalia dancers, as well as by a stunning set from illusionist Sean Alexander and an electric performance by the Joe Ringer Band.
There were a huge array of auction lots, including a guitar donated by EACH Ambassador Ed Sheeran, a luxury stay in Bali and a flight in a Second World War fighter plane. The best-performing was a five-night stay in Brazil for two, donated by Humboldt Travel, that raised £7,000.
Carol Plunkett, EACH Norfolk Fundraising Manager, said: "Friday was amazing, the dancefloor was packed all night long and we're really happy to have received so much positive feedback. A big thank you to everyone who helped make this night such a spectacle, including all our lovely volunteers. The fantastic amount raised will go towards helping continue our care and support service for children and young people with life-threatening conditions, and their families, across Norfolk."
The Norfolk Show Ball always raises vast amounts of money for good causes. This year's was managed by Softley Events and the dress code was black tie, with a colourful twist.
It was supported by the Royal Norfolk Agricultural Association and sponsored by Loveday & Partners, Abel Homes and Gordon Barber Funeral Directors.
The nook is the culmination of a £10 million fundraising campaign by EACH. The charity still has around £900,000 to raise before the hospice is expected to open in the coming months.
For more information about the nook and how you can help raise money go to the Nook Appeal website. 
All articles on this news site are submitted by registered contributors of SuffolkWire. Find out how to subscribe and submit your stories here »