EACH receives another boost towards the nook appeal
14/03/2019 - EACH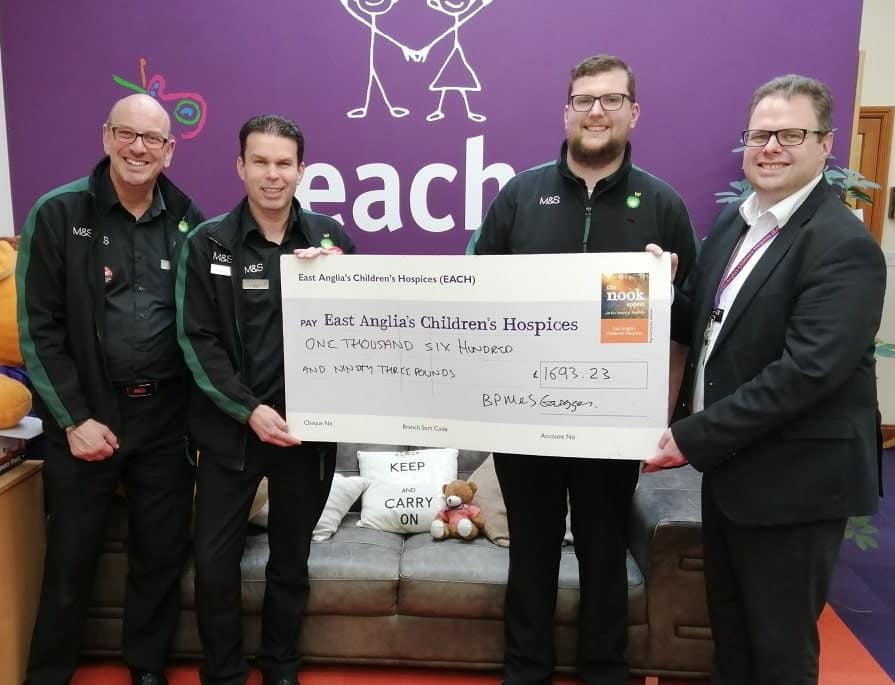 East Anglia's Children's Hospices (EACH) has received £1,693.23  from another fundraising drive by BP M&S across Norfolk, Suffolk and Cambridgeshire.
In May last year, staff and shoppers in Norwich, Dereham, Newmarket, Attleborough, Acle, Thetford, Bury St Edmunds and Whittlesford organised and participated in various activities to raise £5,585.71 for the charity's nook appeal.
Due to the success of the Spring fundraising activities, a similar weekend of action was organised for December, with some staff also taking part in EACH's Norwich Santa Run. The fundraising was additionally boosted by taking part in Christmas Jumper day.
At the filling station in Norwich's Mousehold Lane, a Star Wars club helped with collections, whilst there was live music and face painting for children.
Ray Mills, Store Manager, said: "This weekend was again about the staff and customers having festive fun whilst raising much-needed money and awareness for the nook appeal."
Mike Hatton, EACH Norfolk Corporate Fundraising Assistant, said: "The last weekend of fundraising done by BP M&S was really spectacular and we're delighted to now have benefited from another one just before Christmas. I know staff and customers had a really fantastic time once again. Support like this is vital to what we do, so a big thank you to all involved."
For more information about the nook appeal, go to www.each.org/the-nook.
All articles on this news site are submitted by registered contributors of NorfolkWire. Find out how to subscribe and submit your stories here »