EACH opens its 40th shop in Sheringham
8/08/2019 - EACH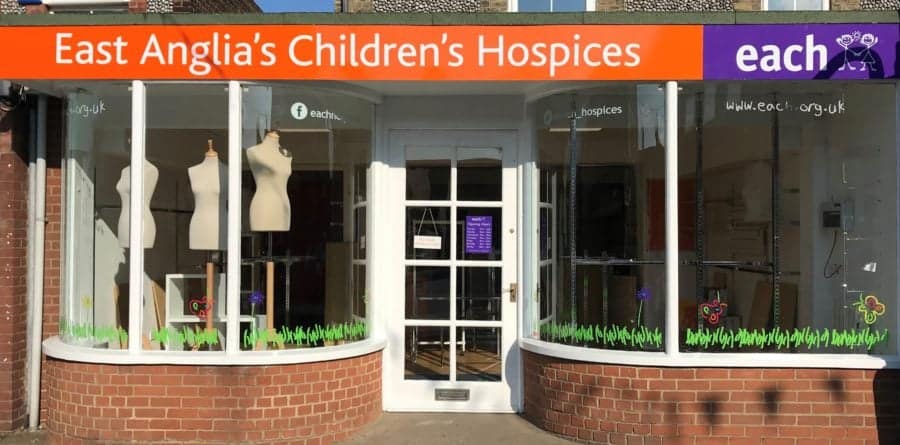 East Anglia's Children's Hospices (EACH) is excited to announce the acquisition of its 40th shop, in Sheringham. The premises in Station Road will open at 10am on Thursday, 15 August and trade seven days a week.
Cutting the ribbon will be Mermaid Merchelle and Pirate Pete from Elite Productions' A Mermaizing Pirate Adventure, the show on at Sheringham Little Theatre later the same day.
Sarah Throssell, EACH Shop Acquisition Manager, said: "Having opened doors in Cromer at the end of May we're delighted to have a companion shop opening in Sheringham soon.
"We've had a reorganisation of the shop floor and overhauled the sorting room, meaning we've been able to increase the levels of clothing, bric-a-brac and other such items on offer, and still have space to lay out a unique children's zone, with plenty of colouring boards and a reading desk."
The good cause welcomes donations of the following clean and good-quality goods: clothing, bric-a-brac, modern paperbacks, toys, jewellery, DVDs/CDs, household linens, retro and vintage clothes, and small electrical items. These can be dropped off at the new shop from Monday, 12 August.
EACH also needs donations of good-quality furniture and can collect it free of charge if you are unable to transport it yourself. Call 01842 821620 for more information.
To put into context the difference just a small donation to a shop can make to the vital work EACH does here are some examples of what your donation could pay for:
–         A top, skirt or pair of trousers worth £5 could pay for art supplies for a session of art therapy
–         A tea set worth £11 could fund an hour of specialist play tailored to a child's individual needs
–         A nice wedding hat or jacket worth £19 could pay for an hour of vital physiotherapy
–         An item of good-quality furniture or prom dress worth £24 could fund an hour with a psychologist to help guide and support families going through, likely, the toughest period of their lives
In the past financial year EACH shops generated an impressive profit of over £1.1 million that all went towards helping families make the most of their precious time together.
Anyone interested in more information on volunteering at the new shop can email volunteerservices@each.org.uk or call Sarah on 07540 335680.
For more information about and to book tickets for A Mermaizing Pirate Adventure visit https://sheringhamlittletheatre.com.
All articles on this news site are submitted by registered contributors of NorfolkWire. Find out how to subscribe and submit your stories here »