EACH children's Hospice thank hundreds of volunteers with fun-filled event
8/05/2019 - EACH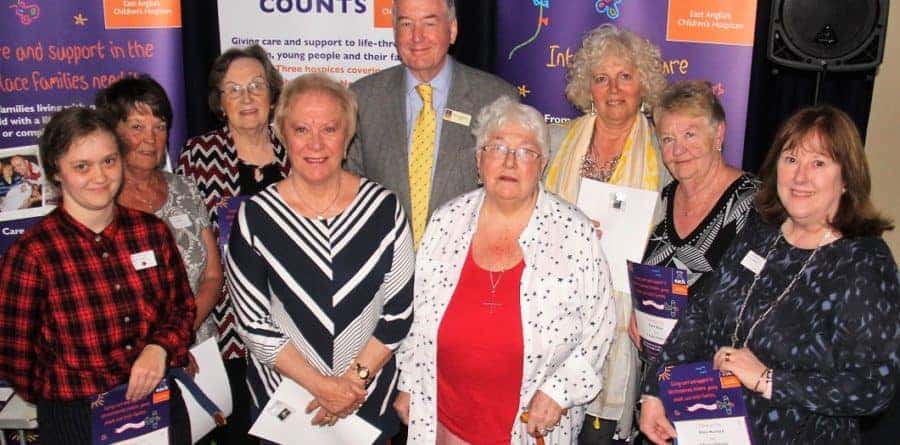 Hundreds of East Anglia's Children Hospices (EACH) volunteers from across Cambridgeshire, Norfolk, Suffolk and North Essex have enjoyed games, a fun photoshoot, luxury raffle and more at a 'thank you day' in their honour.
East Anglia's Children's Hospices (EACH) hosted the event at Culford School in Bury St Edmunds as a way of recognising the efforts of over 1,400 people who help the organisation across its shops, at its fundraising events and offices, its hospices, and even in the homes of families receiving the charity's support.
As well as hearing from and asking questions of EACH directors, trustees and staff, volunteers also heard the story of Sam Morley, mum to 11-year-old Euan, who receives support from The Treehouse, EACH's hospice in Ipswich.
The day saw 30 volunteers given awards for service over periods of five, 10, 15 and 20 years, with a further 78 such awards posted to volunteers unable to make it, before closing with a raffle that featured bottles of bubbly and a range of luxury goodies.
Hannah Diaper, EACH Volunteer Services and Development Manager, said: "Our volunteers are at the heart of what we do, enabling us to reach more families than we could possibly achieve without their support. We couldn't do it without them and it's really important we show them that's the case.
"This was a fantastic day full of fun, friendship and smiling faces, and we're already looking forward to next year's event when we hope to see even more people.
"Whilst we're very lucky to have the volunteer support we do, we're always looking for more volunteers and have some great opportunities to get involved with. If you're interested, please do get in touch to talk through how you can help, even if it's just for an hour a week! Whatever role you do, you can really help make a difference to the lives of the children, young people and families we support here in East Anglia."
For more information about volunteering at EACH, visit www.each.org.uk/volunteering, email volunteerservices@each.org.uk or call 01223 205183.
Keep up to date with all the latest Norfolk news and events here
Pictured: Volunteers alongside EACH chair of Trustees John Pickering. Credit: EACH
All articles on this news site are submitted by registered contributors of NorfolkWire. Find out how to subscribe and submit your stories here »