Award-winning Roarr! Dinosaur Adventure pledges support to EACH
18/12/2018 - EACH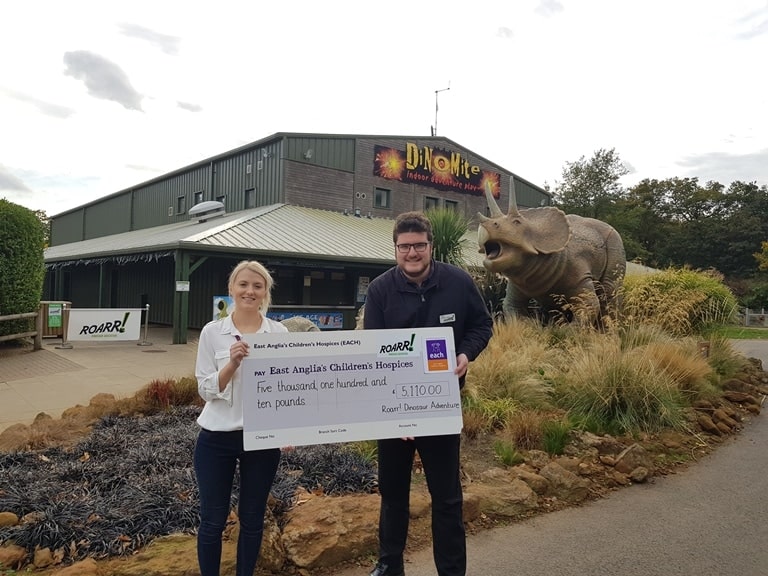 An award-winning Norfolk family adventure park has presented over £5,000 to a local children's charity, helping it transform children's palliative care for the county.
During 2018, Roarr! Dinosaur Adventure has been supporting East Anglia's Children's Hospices (EACH) and the charity's nook appeal.
The dinosaur-themed adventure play park has so far contributed £5,110 to the appeal, having signed up to the nook business network.
Roarr! Dinosaur Adventure, based in Lenwade, was the joint headline sponsor of EACH's King's Lynn Bubble Rush earlier this year.
It also sponsored a bubble arch at the Norwich Bubble Rush, as well as the charity's float at the Lord Mayor's Procession. The year concluded with support for EACH's abseil down The Forum in September.
Adam Goymour, Roarr! Dinosaur Adventure Park Manager, said: "We're proud to directly support young people with life-threatening conditions, in the heart of the communities within Norfolk, through our partnership with EACH.
"The nook appeal is such a worthwhile cause and being able to help contribute towards this and make EACH's vision a reality is very rewarding for us.
"Norfolk is a superb county and being able to collaborate with EACH to highlight this is a remarkable opportunity."
Sophie Mayes, EACH Norfolk Corporate Fundraiser, said: "With the roof of our new hospice having recently been completed, we're getting ever closer to making our vision for improved children's palliative care in Norfolk a reality.
"It must be remembered, though, that we still have some £1.6 million to raise, so the continued support of everyone, including staff of and visitors to Roarr! Dinosaur Adventure, is vital."
The nook business network sees companies committing to raise either £10,000, £15,000 or £25,000 in exchange for various benefits and support.
The nook appeal was launched in November 2014 to raise £10 million for a new, purpose-built hospice in Framingham Earl.
Pictured – Sophie Mayes (EACH) and Joe Randlesome (ROARR!). Photo Credit – EACH.
Click here for more Norfolk news and events.