Volunteers star as EACH opens new Thetford clearance shop
26/07/2019 - EACH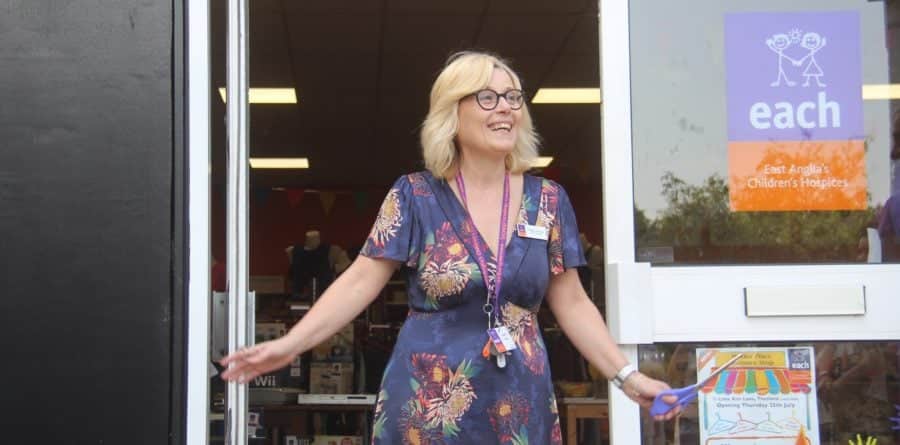 A new East Anglia's Children's Hospices (EACH) new clearance shop in Thetford was declared officially open on Thursday 25th.
Long-standing volunteers Roger Bevington and Tony Robbins, who support EACH retail staff at the charity's Retail Distribution Centre (RDC), also in Thetford, held the ribbon for Brigitte Youngs, Shop Manager, to cut.
She said: "We're delighted to have opened our new shop here in Lime Kiln Lane and really look forward to becoming part of the community. The sun was obviously shining and it was lovely to be joined by Roger and Tony. Thanks to everyone else who came out, too. We really hope people in and around the area will continue supporting us. Please do get in touch if you have items to donate or a few spare hours to volunteer."
The clearance shop will trade seven days a week. It has different coloured hangers and tubs to reflect the various prices, and customers are able to bulk buy children's clothing in bags. After the first hour of trading £125 had passed through the till.
The premises is also now home to EACH's growing eBay team, previously situated at the RDC in Brunel Way, with 1,500 sq ft set aside for members to continue bringing in many thousands of pounds for the care of children with life-threatening conditions across the region and support of their families.
EACH's retail portfolio is growing at a fast pace, with nine shops having opened last year. This latest one in Thetford is its fourth of 2019, 16th in Norfolk and 39th overall.
In the past financial year EACH shops generated an impressive profit of over £1.1 million, putting them firmly in the top 15 for profitability in a national survey of 71 charities.
The charity welcomes donations of the following clean and good-quality goods: clothing, bric-a-brac, modern paperbacks, toys, jewellery, DVDs/CDs, household linens, retro and vintage clothes, and small electrical items. These can be dropped off at the new shop now.
EACH also needs donations of good-quality furniture and can collect it free of charge if you are unable to transport it yourself. Call 01842 821620 for more information.
To put into context the difference just a small donation to a shop can make to the vital work EACH does, here are some examples of what your donation could pay for:
A top, skirt or pair of trousers worth £5 could pay for art supplies for a session of art therapy
A tea set worth £11 could fund an hour of specialist play tailored to a child's individual needs
A nice wedding hat or jacket worth £19 could pay for an hour of vital physiotherapy
An item of good-quality furniture or prom dress worth £24 could fund an hour with a psychologist to help guide and support families going through, likely, the toughest period of their lives
Anyone interested in more information on volunteering at the new shop should email Brigitte at brigitte.youngs@each.org.uk, call her on 01842 777100 or just drop by for a chat.
All articles on this news site are submitted by registered contributors of NorfolkWire. Find out how to subscribe and submit your stories here »