Claude the Crab to star at opening of new Cromer charity shop
28/05/2019 - EACH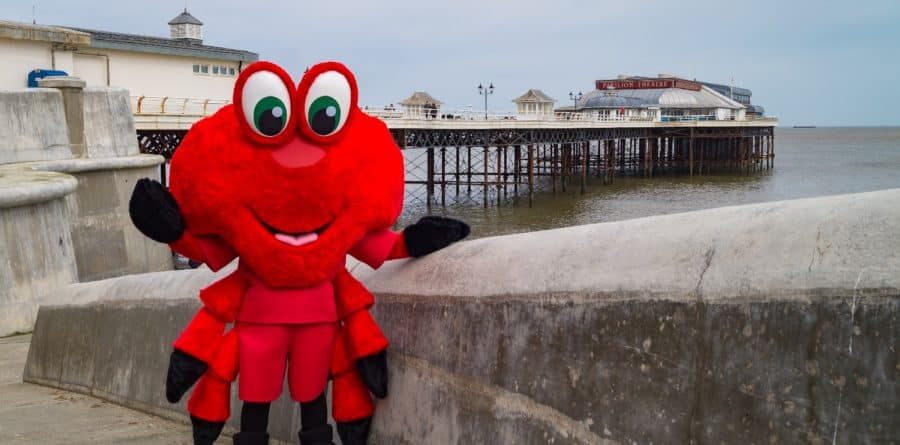 Cromer Pier's Claude the Crab is to put his pincers to good use and help snip the ribbon at the opening of the town's new East Anglia's Children's Hospices (EACH) shop.
EACH will open the doors of the former Barclays bank at 10am on Thursday (30 May). The interior is undergoing quite a transformation, with Barclays generously funding large parts of the work as part of its departure. Among other changes, the customer interview rooms are being turned into a menswear department and the bank manager's office into a dedicated children's room.
Claude will be on hand to herald the building's new era. Deb Lewis, Cromer Pier Box Office & Retail Manager, said: "We're absolutely delighted Claude was invited to open the shop for such a worthy charity and we wish EACH every success for the future."
Laura Mackay, who has been at the helm of the successful EACH shop in Fakenham, will be taking over in Cromer and is looking forward to helping make it a real part of the community.
She said: "Firstly, we're really pleased Claude will be coming along to help open the shop. It should make for a very fun aspect to the day and, with it being half-term, a lovely opportunity for children and families to say hello and take photos.
"Going forward, EACH shops have a proven record when it comes to profitability, with a national survey of 71 charities ranking us firmly in the top 15. This has been achieved by the shops being well-presented, with a range of stock, great staff and volunteers – and there will be no exception here! Please do come along to celebrate our opening, see what bargains you can find and help us provide vital care for children with life-threatening conditions across Norfolk and the rest of East Anglia, as well as support for their families."
EACH currently offers care to 127 children and young people in Norfolk, as well as support to 168 family members, and the same service to hundreds more across Cambridgeshire, Suffolk and North Essex. It needs to raise £16,800 a day to run the service.
EACH welcomes donations of the following clean and good-quality goods: clothing, bric-a-brac, modern paperbacks, toys, jewellery, DVDs/CDs, household linens, retro and vintage clothes, and small electrical items. These can be dropped off at the new shop from Monday (27 May).
EACH also needs donations of good-quality furniture and can collect it free of charge if you are unable to transport it yourself. Call 01842 821620 for more information or visit the website.
Photo credit:  Brad Damms Photography