Bumper raffle proves a huge success at Roys' Christmas customer evening
23/11/2018 - EACH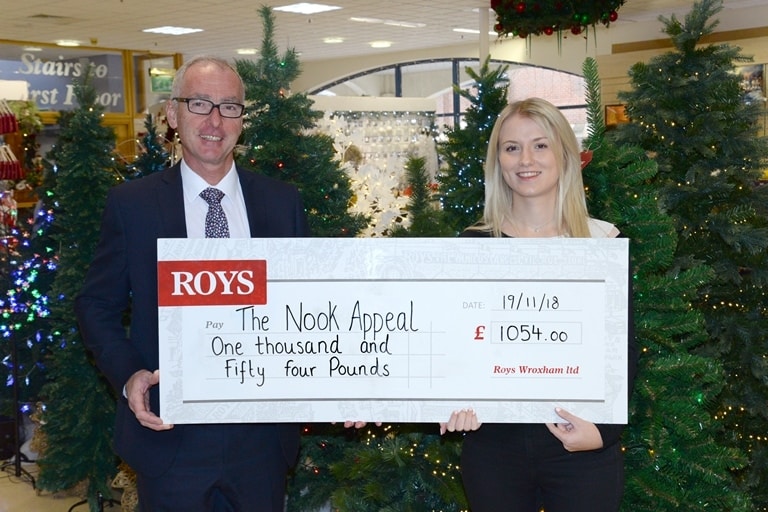 Roys, the family business that runs department stores across Norfolk and Suffolk, has donated £1,054 to the nook appeal following its annual Christmas customer evening last week.
The event was attended by around 500 people, with money raised through a bumper raffle featuring 50 prizes, including a Radley handbag and Samsung Galaxy tablet.
Roys is a member of EACH's nook business network that sees companies committing to raise either £10,000, £15,000 or £25,000 in exchange for various benefits and support. It aimed to raise £10,000, but has, in fact, managed to raise £12,632.59 to date. That total has been boosted by Roys selecting the nook appeal as its charity of the year, with all carrier bag proceeds having been donated in 2018.
Sophie Mayes, EACH Norfolk Corporate Fundraiser, said: "A big thank you to Roys for their support. I'm so pleased their dedicated fundraising this year has seen them smash their initial £10,000 target. Thanks also to all their customers who contributed to the big raffle."
Chris Green, General Manager, said: "Roy's Christmas shopping evening is always hugely popular with our customers and this year's was the best-attended yet. The store had a great atmosphere, with customers enjoying a mince pie, glass of bubbly and the sounds of a local brass band. The evening culminated in the grand raffle that customers always love to take part in, not only for the fabulous prizes, but because the money is donated to such a great cause. We were very grateful to have a presence from EACH on the night."
Click here for more on supporting the work of EACH and The Nook Appeal