Trade Secretary outlines Government's agricultural exports vision at farm
7/09/2020 - Department for International Trade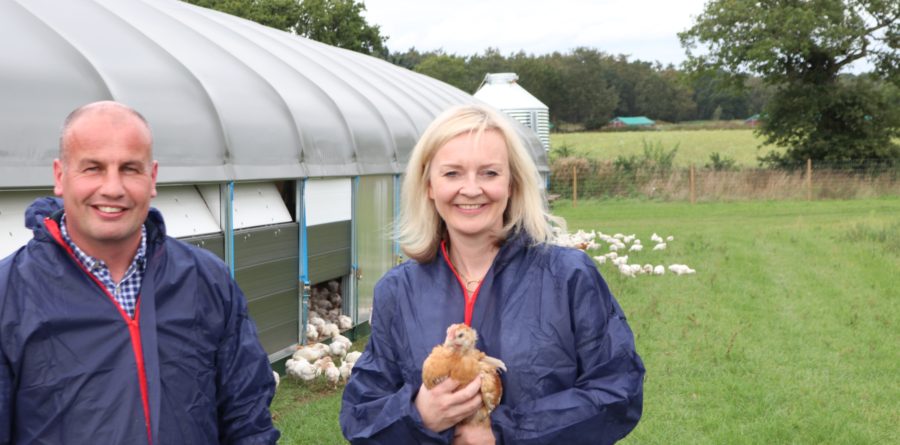 Farmers across East Anglia are set to benefit from future Free Trade Agreements (FTAs) with the US, Japan, Australia and New Zealand, which will open up new overseas opportunities and provide a huge boost to the local economy.
International Trade Secretary Liz Truss visited three farms across East Anglia and outlined how farmers will benefit from new Free Trade Agreements
East Anglia will be one of the biggest beneficiaries – a US FTA alone could boost the local economy by £345m
It comes as beef producers prepare to export to the US for the first time in 24 years
International Trade Secretary, Liz Truss, visited three farms in the region today, all of which produce different goods but are set to benefit from reduced tariffs with key trading partners.
On her visit, she outlined how new trade agreements with nations all over the world will open markets that local farmers would not have been able to access previously. FTAs will allow overseas buyers to access UK produce, which is in huge demand across the world, removing or reducing the tariffs that currently exist.
Secretary of State for International Trade, Liz Truss, said "The trade deals we are negotiating will open up some terrific new export opportunities for farmers in East Anglia and across Britain – boosting rural communities and creating jobs.
"Today I have seen an enormous range of range of produce, both arable and pastoral, all of which will be traded across the world under improved terms through our new agreements.
"Farmers and their high standards will be protected as part of any trade agreement we negotiate. I will not accept any deal that undermines or undercuts British farmers and makes them less competitive."
Her first location was Muntons plc, in Stowmarket, where two new warehouses have been established to help them increase their exporting operation. She then moved onto Traditional Norfolk Poultry, in Shropham, to examine how they are preparing for the run-up to Christmas and how FTAs could benefit them across future festive periods.
The final leg of the tour was to Kings Lynn's Laurel Farm, where the farmers stand to gain not just from new trade deals, but also from the lifting of a ban on British beef in the US for the first time in 24 years. The ban has been in place since 1996 but has been overturned following negotiations by UK government, the Agriculture and Horticulture Development Board and industry groups.
Government analysis shows the agricultural industry will benefit significantly, with a free trade agreement between the UK and US predicted to boost UK growth in the semi-processed foods sector by up to £36m, and by up to £87m for processed foods.
With agriculture such a major industry in East Anglia, the region stands to benefit more than most. Indicative estimates show that an ambitious UK-US FTA could boost the local economy by as much as £345m.
The US is the East of England's largest export market, accounting for 14% of the East of England's goods exports. 3,774 businesses in the East of England collectively export £7,316 worth of goods to the US every minute.
Mark Gorton, Managing Director of Traditional Norfolk Poultry, Shropham, said "We pride ourselves on producing the very best poultry to world-leading welfare standards. It's very exciting to be able to offer our products for export to other countries around the world who may not have the ability or infrastructure to grow free range poultry.
"We believe that the quality and taste of our birds means that they will sell themselves and we are up for the challenge to explore and find new markets.
"We have invested heavily in our farms, factory and personnel over the last few years to prepare ourselves for leaving the EU and we are looking forward to introducing new customers from around the world to our fantastic Norfolk Poultry."
Mark Tyldesley, Managing Director of Muntons plc, Stowmarket, said "It is vital that we are able to compete in the global arena, so free trade agreements with trading nations that maintain or improve the existing agreements would ensure that we are in a strong position to drive our business forwards."
The UK's negotiating objectives make clear that any future agreement must protect and uphold our high standards on food safety and animal welfare.
The Department for International Trade recently established the Independent Trade and Agriculture Commission to protect and advance interests of consumers and industry. The Commission includes agriculture representatives from every nation of the UK.
For more information visit the website
All articles on this news site are submitted by registered contributors of NorfolkWire. Find out how to subscribe and submit your stories here »